Report on IESBA Accomplishments, June 2016 – July 2020
Ethics and Trust – Breaking New Ground
IESBA
Dec 30, 2020 | Annual Reports and Plans
English
The Report, Ethics and Trust – Breaking New Ground includes messages from IESBA's Chairman and its Senior Technical Director and summarizes the Board's accomplishments from June 1, 2016 to July 31, 2020. This includes:
An overview of the revised and restructured Code, which became effective in June 2019.
Highlights of the Board's extensive efforts in promoting awareness, adoption, and implementation of the IESBA Code. 
An update on the IESBA's current projects and initiatives, including those completed in 2019 and 2020. 
An overview of the IESBA Consultative Advisory Group (CAG) and includes a message from the current, and the former CAG Chairman. 
 If you cannot see the image below, please click here to view the publication.
Image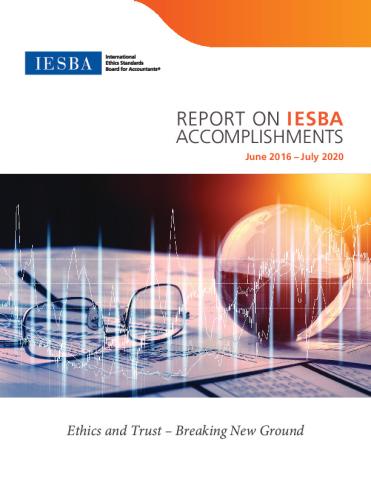 Ethics and Trust – Breaking New Ground
Copyright © 2023 The International Federation of Accountants (IFAC). All rights reserved.