2022 IESBA Annual Report
Reinforcing Ethics and the Public Interest in a Rapidly Evolving World
IESBA
Jul 31, 2023 | Annual Reports and Plans
English
This digitally interactive report looks back at 2022 through the eyes of the IESBA, complete with detailed reports on the Board's projects alongside reflective remarks from its leaders. The report showcases a board in transition, completing long-running projects aimed at further strengthening the IESBA's International Code of Ethics for Professional Accountants (including International Independence Standards) (the Code), addressing the ethical implications of rapid technological advances, and moving fast to develop the necessary ethics and independence standards for sustainability reporting and assurance, always working to serve the public interest.
Beyond the updates on IESBA projects, the 2022 IESBA Report features an overview of the Board's extensive stakeholder outreach efforts and information about its efforts to promote global adoption and effective implementation of the Code. The Report also includes a message from the IESBA's Consultative Advisory Group (CAG) Chair, Mr. Gaylen Hansen.
Image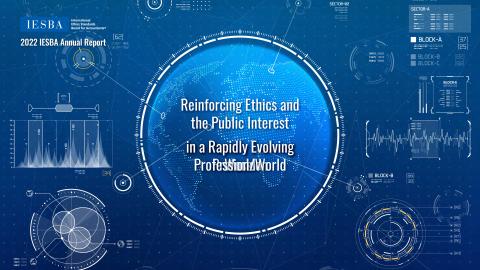 Reinforcing Ethics and the Public Interest in a Rapidly Evolving World
Copyright © 2023 The International Federation of Accountants (IFAC). All rights reserved.