Image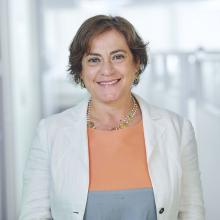 Gabriela Figueiredo Dias
Job Title
Chair, IESBA and Co-CEO, International Foundation for Ethics and Audit
Ms. Gabriela Figueiredo Dias is the Chair of the International Ethics Standards Board for Accountants (IESBA). She also serves as the co-CEO of the International Foundation for Ethics and Audit (IFEA), the organization that houses IESBA and the International Auditing and Assurance Standards Board (IAASB). She became Chair of the IESBA on January 1, 2022 (appointed for an initial three-year term) and co-CEO of the IFEA in the beginning of 2023. She shares the IFEA's co-CEO role with IAASB Chair Tom Seidenstein.
In her role as IESBA Chair, Ms. Figueiredo Dias ensures that IESBA activities maintain a public interest focus, while developing high-quality ethics and independence standards. She brings a strategic mindset to the development and implementation of IESBA objectives and fulfills several interrelated roles, serving as leader, spokesperson, and stakeholder liaison. In her role as IFEA Co-CEO, she manages the Foundation's operations.
Ms. Figueiredo Dias has extensive experience in international standard setting, legal and regulatory structure and governance, and academia. Previously, she was the Executive Chair (2016-2021) and Deputy Chair (2015-2016) of the Portuguese Securities Commission (CMVM), the authority responsible for regulating and supervising financial instrument markets, covering listed companies, asset managers, auditors, and investment firms. There, she managed and provided strategic direction to the CMVM and represented the organization in regional and global financial forums. Ms. Figueiredo Dias joined the CMVM in 2007 as Senior Counsel on international affairs and regulatory policy and during 2008-2015 she served in several senior leadership roles, including Head of the International and Regulatory Policy Department and of the Markets, Issuers, and Financial Information Department, and Advisor to the Chair.
Ms. Figueiredo Dias served as a Board Member of the International Organization of Securities Commissions (IOSCO) and the European Securities and Markets Authority (ESMA), Chair of the ESMA Investment Management Standing Committee, and a member of ESMA's Management Board and Mediation Panel. She was also a member of the Portuguese National Council of Financial Regulators. In addition, Ms. Figueiredo Dias served as Vice-Chair of the Organization for Economic Co-operation and Development (OECD) Corporate Governance Committee. She was a member of IOSCO's Sustainability Task Force (2020-2021) and an observer at the Monitoring Board of the IFRS Foundation. Ms. Figueiredo Dias is a founding member of the Portuguese Corporate Governance Institute and a member of the European Corporate Governance Institute. Since February 2021, Ms. Figueiredo Dias is also the President of the General Council of the University of Coimbra in Portugal.
Over her 30+ years career, Ms. Figueiredo Dias published numerous papers, articles, and books, as author or co-author, on corporate governance, auditors, pension funds, corporate boards, and sustainability. More recently, during her term as CMVM Chair, Ms. Figueiredo Dias focused on environmental, social, and governance (ESG) matters and integrity of professionals in financial information and management. With such a focus, Ms. Figueiredo Dias has led a progressive mindset transformation amidst the Portuguese market stakeholders towards a more sustainable and ethical financial ecosystem.
Ms. Figueiredo Dias holds bachelor's and master's degrees in law from the Coimbra University Law School. She did extensive academic research in several Universities in the UK and US and holds a certificate in Leadership and Communications from Nova University (Lisbon).