Applying the Code's Conceptual Framework to Independence
Practical Guidance for Auditors In Technology-related Scenarios
IESBA
Jul 13, 2023 | Guidance & Support Tools
English
The publication describes key technology-related provisions of the International Code of Ethics for Professional Accountants (including International Independence Standards) and provides auditors with three practical examples involving technology-related non-assurance services to illustrate how to apply the Code's requirements with respect to independence.
This non-authoritative publication was developed jointly by the Staff of the Australian Accounting Professional & Ethical Standards Board (APESB) and IESBA under the auspices of the IESBA's Technology Task Force, initiated as part of the IESBA's Phase 2 Technology Working Group activities.  Learn more about IESBA's technology work here.
Image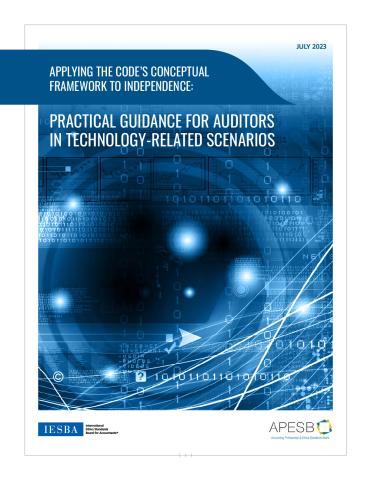 Practical Guidance for Auditors In Technology-related Scenarios
Copyright © 2023 The International Federation of Accountants (IFAC). All rights reserved.