Image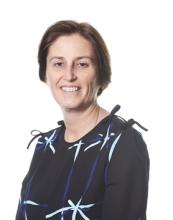 Liesbet Haustermans
Liesbet Haustermans became a member of the International Ethics Standards Board for Accountants (IESBA) in January 2016. She was nominated by Deloitte. Prior to serving as a member, she served from 2010 to 2015 as a Technical Advisor to a former member of the IESBA.
Ms. Haustermans works for Deloitte Touche Tohmatsu Limited Global Independence and is Deloitte's Regional Independence Leader for Europe, Middle East, and Africa. She is also a Director at Deloitte Belgium
Ms. Haustermans is a Belgian Certified Auditor and a member of the Institut des Réviseurs d'Entreprises (Belgian Institute of Auditors).
She was recently appointed as Chair of Accountancy Europe's Professional Ethics and Competences Working Party.
Ms. Haustermans has a master's degree in commercial engineering and a master's degree in audit and accounting from the Catholic University of Leuven, Belgium.