Image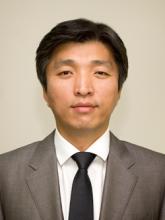 Ki-Tae Park
Job Title
IESBA Technical Advisor for Sung-Nam Kim
Kitae is a partner of the PwC in Korea, based in Seoul.  He has 30 years of extensive experience in financial industry to assist Korean big companies in various areas including audit, IFRS implementation and accounting advisory. Kitae has a solid knowledge of IFRS and US GAAP and has extensive experience in assisting Korean companies raising capital overseas. He has spent two years in US (Los Angeles) from 1996~1997 for overseas experiences.
As a partner in Banking assurance group currently, He is responsible for all aspects of the services with respect to IFRS conversion, including but not limit to, assisting in overall project management, providing technical support for GAAP differences identification, IFRS conversion and financial statements disclosures, establishing new conversion business processes and designing the new IT system for conversion procedures., as well as evaluating and implementing new rules under IFRS.
The clients Kitae served include, but not limited to, Kookmin Bank, Shinhan financial group, Korea Telecom, LG Display all of which are SEC registrants, LG Electronics and LG U+.