Image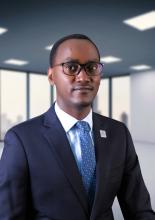 Félicien Muvunyi
Mr. Félicien Muvunyi was nominated to the IESBA board in November 2021 having been nominated by the Institute of Certified Public Accountants of Rwanda (ICPAR).
Mr. Muvunyi is one of the founding members of ICPAR. He served on the inspection commission of the Institute for a period of two years before being nominated to the Governing Council where he served for another four years. He currently chairs the Professional Standards Committee of the Institute whose mandate is to advise the Governing Council on adoption of accounting, financial reporting and auditing standards, and recommend best practices in public financial management.
Mr. Muvunyi was the Country Managing Partner of Ernst & Young Rwanda before founding Garnet Partners Ltd. He also previously served as the Group CFO of Crystal Ventures Ltd, one of the leading investment firms in Rwanda.
Mr. Muvunyi currently chairs, Apparel Manufacturing Group, one the leading garment manufacturing companies in Rwanda whose majority owners are women entrepreneurs striving to make a significant positive impact to the Rwandan society through fashion. He has also previously served on various boards in Rwanda.
Mr. Muvunyi is a graduate in accounting sciences from the National Unity of Rwanda with honors. He is also an ACCA member.