Using Specialists in the COVID-19 Environment
Including Considerations for Involving Specialists in Audits of Financial Statements
IESBA
Oct 6, 2020 | Guidance & Support Tools
English
This publication provides guidance to assist professional accountants in business and in public practice determine when there might be a need to use the services of a specialist to assist in performing specific tasks and other professional activities within their employing organizations, and in serving their clients in the COVID-19 environment. The publication also highlights relevant ethical considerations for accountants when thinking about using a specialist, as well as circumstances that indicate a need for a specialist during an audit of financial statements.
Image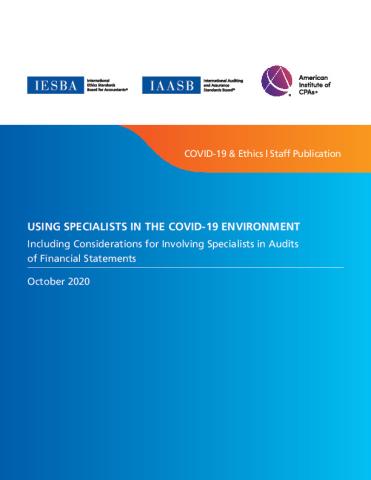 Including Considerations for Involving Specialists in Audits of Financial Statements
Copyright © 2023 The International Federation of Accountants (IFAC). All rights reserved.