Consideraciones de ética relativas al establecimiento de honorarios de auditoria en un contexto de presión a la baja de honorarios
Ethical Considerations Relating to Audit Fee Setting in the Context of Downward Fee Pressure
Translated by: Instituto de Censores Jurados de Cuentas de España
IESBA
Jun 1, 2016 | Guidance & Support Tools
Spanish-Spain
All available Translation:
Publicación Personal IESBA
Como respuesta a preocupaciones de los interesados acerca del establecimiento de honorarios de auditoría en un contexto de presión a la baja de honorario que  podría afectar negativamente a la calidad de auditoría, esta publicación pone de relieve consideraciones importantes en el Código de Ética para Contadores Profesionales (Código) para los auditores en relación con la fijación de los honorarios de auditoría.
La publicación será relevante para los auditores cuando se participa en la licitación de un nuevo contrato de auditoría, o al proponer o acordar honorarios por trabajos de auditoría. También puede ser de interés para los encargados del gobierno, preparadores, reguladores y organismos de supervisión de auditoría, inversores y otros con un interés o participación en el trabajo de éstos y su independencia.
Image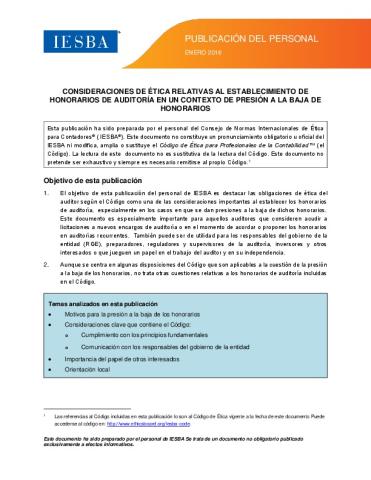 Ethical Considerations Relating to Audit Fee Setting in the Context of Downward Fee Pressure
Copyright © 2023 The International Federation of Accountants (IFAC). All rights reserved.