Sustainability Reporting and Assurance: A Focus on Ethics and Independence
Demand for timely, accurate, and relevant sustainability information has risen dramatically in recent years. For sustainability reporting to meet the needs of stakeholders in the public interest, the infrastructure that supports sustainability reporting and assurance must be underpinned by high standards of ethical behavior and independence together with a robust system of quality management, oversight and enforcement.
WHAT IS IESBA DOING?
The IESBA recently established a Sustainability Working Group that is committed to:
Developing a strategic vision to guide the IESBA's standard-setting actions in relation to sustainability reporting and assurance. This will include a standard-setting project plan for the IESBA's consideration with a view to approval by the Board by December 2022.
Undertaking awareness-raising activities to highlight the role of the IESBA and the applicability of the provisions in the International Code of Ethics for Professional Accountants (including International Independence Standards) to sustainability reporting and assurance.
Conducting fact finding, including extensive stakeholder outreach, to inform the IESBA's standard-setting activities and other workstreams.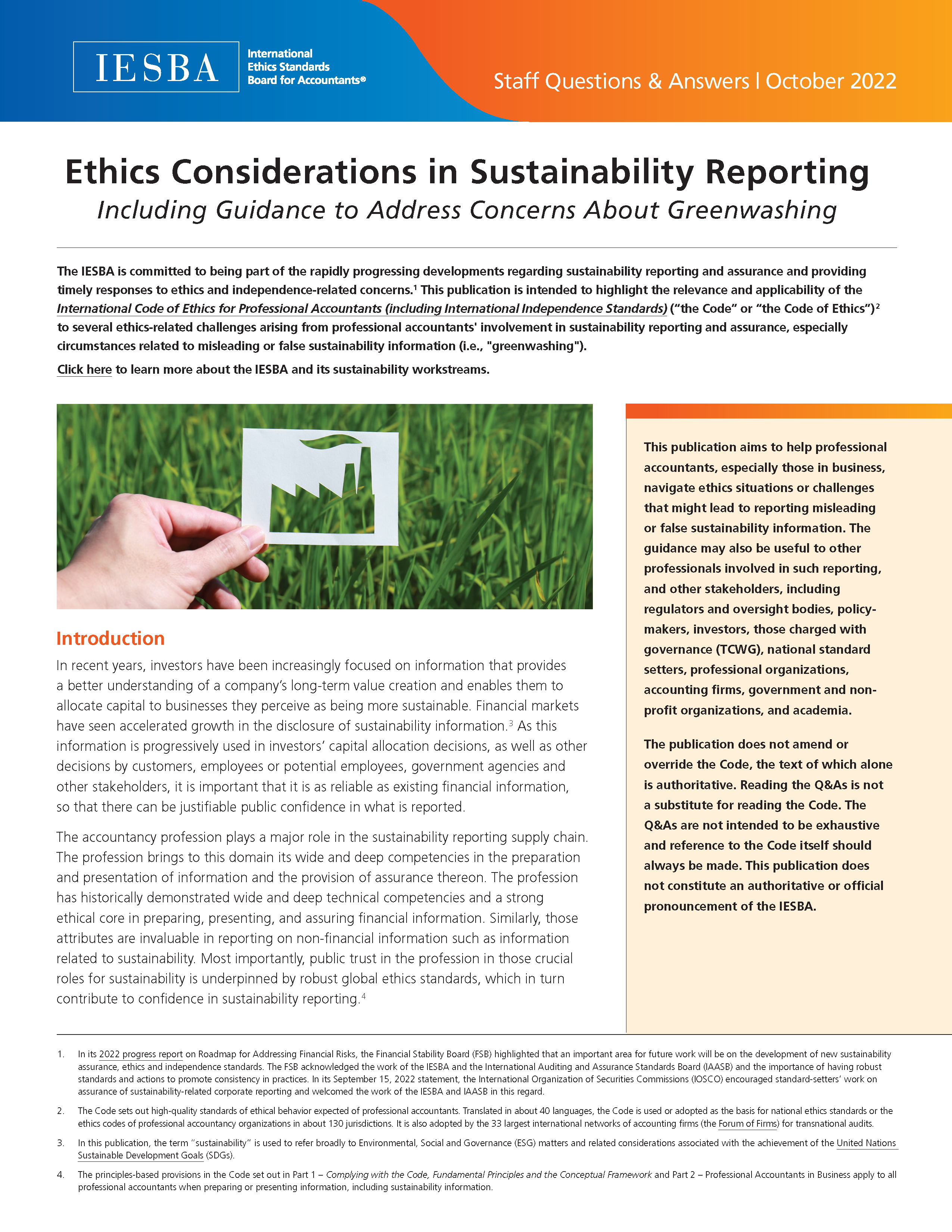 New: Ethics Considerations in Sustainability Reporting: Including Guidance to Address Concerns About Greenwashing
The IESBA is committed to being part of the rapidly progressing developments regarding sustainability reporting and assurance and providing timely responses to ethics and independence-related concerns.
This publication is intended to highlight the relevance and applicability of the Code to several ethics-related challenges arising from professional accountants' involvement in sustainability reporting and assurance, especially circumstances related to misleading or false sustainability information (i.e., "greenwashing").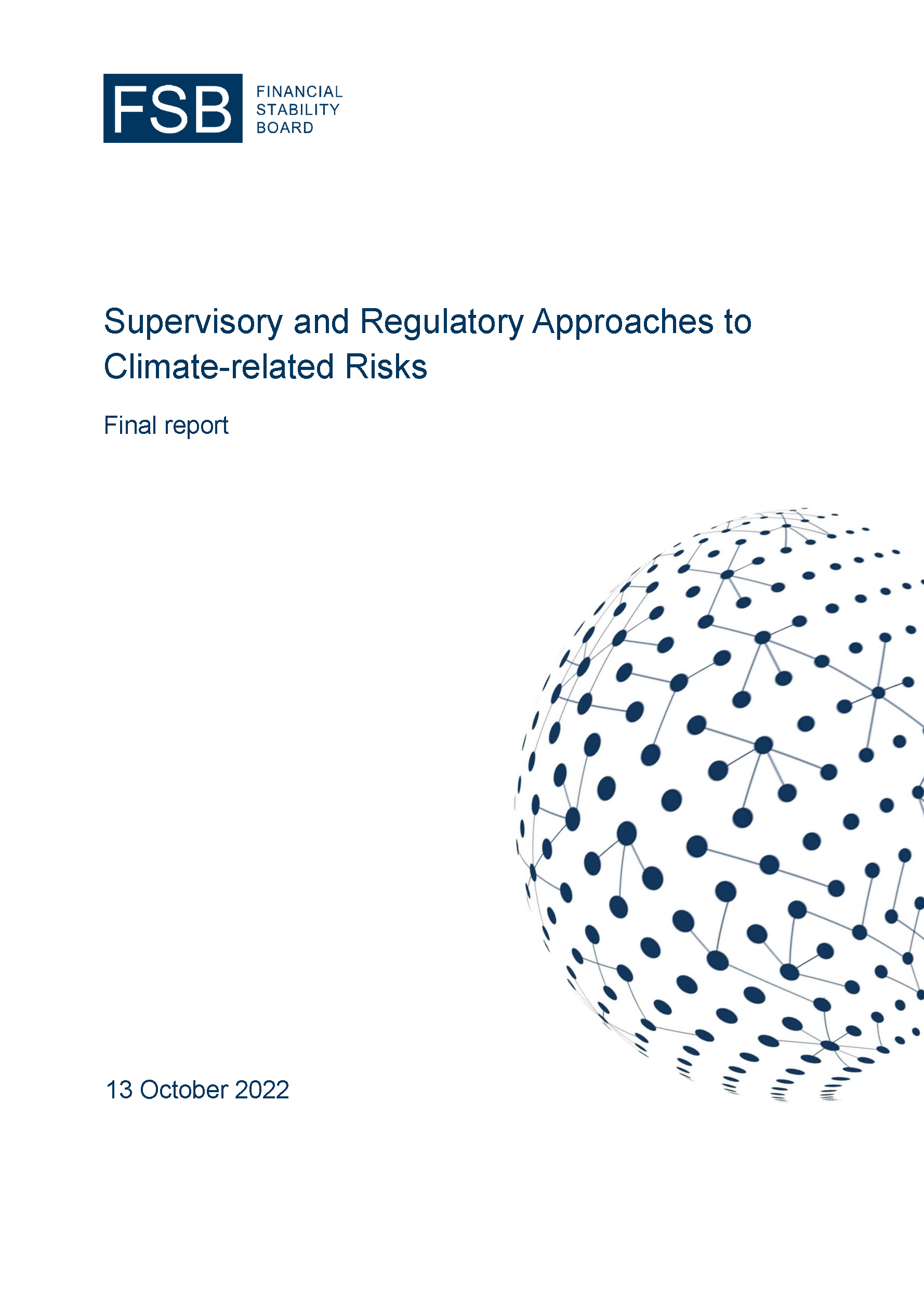 NEWS: FSB report on Supervisory and Regulatory Approaches to Climate-related Risks highlights IESBA
The Financial Stability Board (FSB) published a progress report & recommendations for supervisory and regulatory approaches to climate-related risks along with calls for continued progress on disclosures.
The report looks at the progress made by the International Sustainability Standards Board in setting the global baseline standard, and the work of IESBA in supporting the work on both disclosure and assurance standards.
The final report includes a clear recognition of IESBA's work as being relevant in the context of the creation of an appropriate framework and infrastructure for sustainability reporting and assurance.
How does the existing IESBA Code apply to sustainability reporting and assurance?
The IESBA Code establishes a responsibility for professional accountants to act in the public interest. High quality ethics standards, such as those set out in the IESBA Code, establish the mindset and behavioral characteristics professional accountants must exhibit at all times when they apply financial and sustainability reporting standards. The Code sets out the fundamental principles of ethics for professional accountants, reflecting the profession's recognition of its public interest responsibility. In addition, the Code provides a conceptual framework to identify, evaluate and address threats to compliance with those principles.
MORE ABOUT THE FUNDAMENTAL PRINCIPLES
The Code also sets out the independence expectations professional accountants must meet when they are engaged to provide external assurance on information – both financial and non-financial.
In addition to the fundamental principles and conceptual framework, the following sections of the IESBA Code are of particular relevance to professional accountants in business involved in sustainability reporting:
Section 210, Conflicts of Interest
Section 220, Preparation and Presentation of Information
Section 230, Acting with Sufficient Expertise
Section 260, Responding to Non-Compliance with Laws and Regulations
Section 270, Pressure to Breach the Fundamental Principles
Professional accountants in public practice who are called upon to help their clients in preparing sustainability-related information are required to comply with Part 3 - Professional Accountants in Public Practice of the Code.

Click here to access the Exploring the IESBA Code publication series to learn more about the topics covered in the parts and sections of the IESBA Code.
Access the Code on e-International Standards
INDEPENDENCE CONSIDERATIONS
Stakeholders need to trust that auditors and assurance providers are independent of their clients and of management. In addition to complying with the Code's fundamental principles, professional accountants in public practice are required to comply with the International Independence Standards when performing audits, reviews, or other assurance engagements. This includes sustainability assurance engagements.
To rely on an assurance practitioner's report, there must be confidence that the firm's professional judgment was not compromised, and that the practitioner was not influenced in a way that would threaten their integrity, objectivity, or professional skepticism. Auditors of public interest entities (PIE) are subject to additional independence requirements to meet stakeholders' heightened expectations.
Financial statement auditors may be called upon to assist or advise their audit clients on sustainability reporting matters. In such circumstances the Code's non-assurance services (NAS) provisions apply.

Broader Issues to be Considered
The IESBA notes that other professionals (not just professional accountants) are involved in preparing, presenting or assuring sustainability-related information. Therefore, as part of a separate workstream, the IESBA is exploring whether, and if so how, the scope of the IESBA Code could be expanded to cover professionals other than professional accountants in relation to sustainability reporting and assurance.
SUSTAINABILITY STAKEHOLDER QUESTIONNAIRE
Your feedback will help the Sustainability Working Group:
Better understand how the Code is being used by those who are involved in reporting and providing assurance on sustainability-related information.
Identify the specific activities that professional accountants in business and in public practice (including auditors) are undertaking in relation to sustainability reporting and assurance, with a view to identify and responding to the most pressing ethics (and independence) issues that arise.
Inventory stakeholder suggestions about potential areas where the Code could provide more specific requirements and guidance to assist in enhancing public trust in sustainability reporting and assurance.
Please send responses to communications@ethicsboard.org
To view survey questions by category, click below.
Investors, analysts and rating agencies, and other users of sustainability-related information
Those charged with governance and preparers of sustainability reports
Sustainability assurance providers, including those that are not professional accountants
Regulators and audit oversight authorities, including monitoring group members
International and national standard-setters, as well as professional accountancy organizations
Others, including policy makers, researchers, academics, influencers